Sen. Joe Neal Files for Governor's Office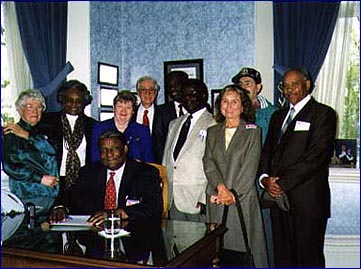 WITH A LITTLE HELP FROM HIS FRIENDS (May 7, 1998) Carson City, Nev. — Sen. Joe Neal is accompanied by friends and supporters from throughout the region at his official filing for office at the Nevada state capitol. Standing, from left to right: Pat Fladager of Reno who recently announced her resignation as chair of Common Cause Nevada in order to work on Sen. Neal's campaign; Bertha Woodard, Reno civil rights legend; Ellen Nelson, high profile Carson City activist and cable television public affairs program producer; Dick Ham of Carson City, longtime friend of Sen. Neal and a member of one of Nevada's most prominent political families; Rev. Onie Cooper and Bill Moon, noted Reno civil rights leaders; Pat Potter, retired Carson City teacher, former chair of the Carson City Democratic Central Committee and former chair of the Carson-Tahoe Hospital Board of Trustees; Lewis Rosenberg, Carson City Democratic activist and longtime friend and supporter of Sen. Neal; and Reno civil rights leader Eddie Scott. He and and Sen. Neal were honored with lifetime achievement awards in February by the Reno-Sparks Branch of the NAACP, of which Mr. Scott is a former president. (Andrew Barbano photo)


Sen. Neal answers a question from longtime Las Vegas Review-Journal capital reporter Sean Whaley, foreground.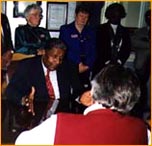 Sen. Joe Neal responds to a question from AP Bureau Chief Brendan Riley (red vest, back to camera).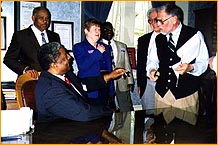 Sen. Joe Neal fields a hardball question from Cy Ryan, right, veteran Las Vegas Sun reporter and dean of the capital press corps, while awaiting filing documents to sign at the office of Nevada Secretary of State Dean Heller. Neal supporters from throughout the region stand behind him, including Eddie Scott of Reno, Ellen Nelson of Carson City, Bill Moon of Reno and Dick Ham of Carson City.