IN SINCERE APPRECIATION

Now retired, Sen. Neal thanks all who supported him in his 32 years in the upper house. He will remain engaged (see below) with the great issues, as he has throughout his life. The continuing high volume of traffic to this website reinforces and rewards that commitment. Thank you.
BREAKING NEWS AND THEN SOME—>
Freedom loving racists shoot to rewrite history
Barbwire by Andrew Barbáno / Expanded from the 9-20-2017 Sparks Tribune

Virginia City Nevada celebrates Slave Labor Day
Barbwire by Andres Luis Barbáno/Special online Labor Day edition 9-2-2017/Updated 9-3,4,5

Just in time for President Trump's visit to Reno
True confessions of Nevada's undercover Republican presidential PR man
Barbwire by Andrew Barbáno / Expanded from the 8-23-2017 Sparks Tribune

2018—>The year of estrogenizing dangerously
Barbwire by Andrew Barbáno / Expanded from the 8-9-2017 Sparks Tribune

Anniversaries

On Aug. 2, 1924, author James Baldwin was born in New York City. The author of "Go Tell It on the Mountain," "The Fire Next Time" and so many other works, eventually relocated to France to escape the stigma of being known as "the black author." He died on 1 Dec. 1987 in St. Paul de Vence, France; on this date in 1942, farmworker José Gallardo Díaz, near death, was found in a road near Sleepy Lagoon reservoir in southern California, sparking a wartime orgy of anti-Latino police and journalism activities, dubious prosecutions of suspects, and the Zoot Suit Riots of 1943; on this date in 1957, The Big Beat, a rock and roll show that predated American Bandstand and featured an astonishing array of stars, appeared for the last time, cancelled by ABC after singer Frankie Lymon was spotted dancing with a white girl on the show. (The 1924 item was suggested by Garrison Keillor's daily Writers Almanac sponsored on National Public Radio by The Poetry Foundation; the latter pair appear courtesy of longtime Nevada jourmalist Dennis Myers' daily Poor Denny's Almanac.)

On July 28, 1917 during World War One and after rioting whites in East St. Louis killed 40 black residents, 8,000 African Americans marched down Fifth Avenue in absolute silence to protest U.S. oppression of its black citizens in community life and in the armed services; on 7-28-1932 in the District of Columbia, four troops of cavalry, six tanks, infantrymen with machine guns, and miscellaneous other forces all led by Douglas MacArthur (who said the fate of the republic was at stake) attacked the Bonus Army, unemployed veterans of World War One who had marched across the nation to demand early payment of a promised bonus; on 7-28-1967, President Johnson established the National Commission on Civil Disorders (whose report, submitted on February 29, 1968, he ignored). (Courtesy of Nevada journalist Dennis Myers'daily almanac.)

Reno-Sparks NAACP Mourns Former Presidents
Nevada civil rights giants Eddie Scott, Bill Moon laid to rest

Condemned at Birth
The diabetes establishment inhibits research on a very promising diabetes CURE
"Tell us how it will make ever make us money."
Barbwire by Andrew Barbáno / Expanded from the 6-13-2017 Sparks Tribune
Sen. Neal's 2002 universal health care proposal proves visionary in retrospect

Death Panels, Part Deux
Sen. Neal: Gov. O'Callaghan's legacy dismantled by successsors
Barbwire by Barbano / Expanded from the 3-14-2017 Sparks Tribune

Equal Rights Betrayal
Sen. Neal recalls the history-making fight for the Equal Rights Amendment
Barbwire by Barbano / Expanded from the 2-28-2017 Sparks Tribune
Updated 3-1, 3-3, 3-6 and 3-8-2017

Reidless or Rudderless?
Barbwire by Barbano / Expanded from the 2-21-2017 Sparks Tribune

Kate Smith & Lady Gaga
Barbwire by Barbano / Expanded from the 2-14-2017 Sparks Tribune

The Gorsuch Nonesuch: Poison Annie's Revenge
Barbwire by Barbano / Expanded from the 2-7-2017 Sparks Tribune

On Nov. 23, 2014, after revelations by The Barbwire/Sparks Tribune, the Reno News & Review and the Reno-Sparks NAACP, Assemblymember Ira-Hansen, R-Sparks, resigned as speaker-designate of the Nevada State Assembly.
---
In Memoriam: John Fitzgerald Kennedy, 5-29-1917/11-22-1963
Walk a mile in Colin Kaepernick's cleats
"In this country, American means white. Everybody else has to hyphenate."—Toni Morrison
Barbwire by Barbano / Expanded from the 8-30-2016 Sparks Tribune
Gunzo Gonzo: Like most Nevada sheriffs, this God-fearing gunmonger wants more firearms on the streets without background checks
Barbwire by Barbano / Sparks Tribune 7-19-2016
Barbwire Archives
Psychographic testing biases police application exams
By Patricia Gallimore and Andrew Barbano / Reno-Sparks NAACP
RGJ.com 7-14-2016 / Reno Gazette-Journal 7-17-2016
Top 10 cures for what ails us: Better late than never
Nixon's 1968 Law & Order campaign was even more racist than previously known
Barbwire by Barbano / Expanded from the 7-12-2016 Sparks Tribune
Report: Rise in poverty threatens to further weaken Nevada education system
Ian Whitaker / Las Vegas Sun 7-7-2016

When public interest is secondary to public relations
Managing the spin of the war on drugs
Barbwire by Barbano / Expanded from the 7-5-2016 Sparks Tribune
Who owns Nevada's PBS TV 5-and-10-cent store?
Who shot JR? Ralston show axed without notice.
Barbwire by Barbano / Expanded from the 6-28-2016 Sparks Tribune
Donald Trump, Charles Manson and Mother Theresa
Barbwire by Barbano / Expanded from the 6-21-2016 Sparks Tribune
Former Assemblymember Bob Price, D-N. Las Vegas, longtime Neal colleague, goes home after seven-month hospital stay
Sparks Tribune 6-14-2016
Rent control, damage control and butt control
Donald Trump's VP running mate uncloaked
Barbwire by Barbano / Expanded from the 6-14-2016 Sparks Tribune
Muhammad Ali: Winning against earthquakes
Barbwire by Barbano / Expanded from the 6-7-2016 Sparks Tribune / Updated 6-10-2016
Nevada utilities continually consume consumers
Barbwire by Barbano / Expanded from the 5-31-2016 Sparks Tribune
Hall of Fame former NLV Assemblyman Bob Price ailing
Sen. Neal calls longtime colleague with 80th birthday greetings
Barbwire by Barbano / Expanded from the 5-31-2016 Sparks Tribune
Big money still smarts from Neal's 2000 victory
Barbwire by Barbano / Expanded from the 4-26-2016 Sparks Tribune
ON THE AIR —> Reno-Sparks NAACP President Patricia Gallimore and First Vice-President Andrew Barbano guested on The Crisis Magazine Radio Program, Tuesday, 19 April 2016 at 10:10 a.m. PDT. The hostess was Crisis Publisher Laura Blackburne. The program aired live on WTHE 1520-am in the New York City/New Jersey/Connecticut metropolitan area. Established in 1910, The Crisis is the official publication of the NAACP.
Voter Registration: The best method yet devised to prevent citizens from voting
Dennis Myers / Reno News & Review cover story 4-7-2016
Community Teach-In for Gun Sense – Thursday March 3, 5:30 p.m., Bethel AME Church, 2655 Rock Blvd, Sparks NV / RSVP to Temple Sinai
TV or not TV — Oscar blackouts and PBS blacklists
Barbwire by Barbano / Expanded from the Tuesday 3-1-2016 Sparks Tribune

Michael Moore begs President Obama to visit the poisoned people of Flint, Michigan
Sign the petition!
Martin Luther King, Jr., weekend traditional event schedule
In Sparks, politics isn't personal, just business
Barbwire by Barbano / Expanded from the Tuesday 1-12-2016 Sparks Tribune
On this date in 1955, on the night of Rosa Parks' arrest, Jo Ann Gibson Robinson stayed up all night mimeographing 35,000 flyers announcing the boycott of the Montgomery bus system. [Courtesy of longtime Nevada reporter Dennis Myers' daily Poor Denny's Almanac]
Happy Thanksgibleting
Love and laughter to you and yours
Almanac for Thanksgiving weekend
On Nov. 21, 1980, eighty-seven people died in the MGM casino/hotel fire in Las Vegas. [Courtesy of longtime Nevada reporter Dennis Myers' daily Poor Denny's Almanac]

Thus began Sen. Neal's difficult but ultimately successful fight to win passage of Nevada's toughest-in-the-nation high-rise fire sprinkler law.
Sorcerer's apprentices work cheap in Nevada
Barbwire by Barbano / Expanded from the Tuesday 11-17-2015 Sparks Tribune

Sen. Neal's statement on the resignation of the University of Missouri's president
The students' protest has caused the president to resign. I hope that this is first a means of taking charge of their education. Raw power has to mean something. When it is used to remove something, the replacement must be better than that which was removed.

A message has been sent to college and university presidents across the country that they have a responsibility to correct the negative things which may affect their campuses.

The tactics which were being used against black students were calling them "niggers." Apparently, this type of abuse, among other things, has been going on for some time without any corrective action provided or proposed by the administration.

So the black students sought a level of influence that has been seen at educational institutions since the early 1960s when Texas Western beat the University of Kentucky for the NCAA basketball championship.

The students solicited the cooperation of the football team and got it, both black and white, in calling for the resignation of the president. The football team decided to boycott any games to be played in the future until the president resigned. This resulted in the resignation of the president and now has the high probability of forcing needed changes in racial relations at the university. (11-9-2015)


Bigoted Reno Gazette-Journal column debunked
By Dennis Myers / Reno News & Review 10-29-2015
Reno-Sparks NAACP responds
NAACP sets 70th Annual Freedom Fund Awards Dinner Oct. 24 Circus Circus-Reno
Voter I.D. and driver's license office closures black-out Alabama's Black Belt
Alabama statewide newspapers / 9-30-2015
Conservative Sparks GOP Assemblyman Hansen borrows from Sen. Neal's gross gaming tax playbook
Strange bedfellows and nubile wenches
Barbwire by Barbano / Expanded from the 9-29-2015 Sparks Tribune
Barbano on statewide Nevada Newsmakers TV show
Cheering for cheating when jockocracy rules
Barbwire by Barbano / Expanded from the Tuesday 9-15-2015 Sparks Tribune
We don't need no education, biblical or not
Barbwire by Barbano / Expanded from the Tuesday 9-8-2015 Sparks Tribune
Labor Day 2016: Nevada workers' last stand
Barbwire Exclusives: Gansert will run to replace Brower in Nevada Senate
Complaint filed against welfare-bashing illegal GOP front petition
Barbwire by Barbano / Uploaded 8-30-2015/ Expanded from the Tuesday 9-1-2015 Sparks Tribune
JFK & LBJ: The truth about the besieged 1965 Voting Rights Act

Nevada legend Joe Neal takes victory lap on 80th birthday
John L. Smith / Las Vegas Review-Journal 8-1-2015
Happy birthday, Sen. Neal. Born 7-28-1935, Mounds, Louisiana.
Barbwire by Barbano / Sparks Tribune 7-28-2015
Freedom rider Erma Arvilla Rupp Fritchen dies
Memorial service 10:00 a.m. Sat. 25 July 2015, Sparks United Methodist Church, 1231 Pyramid Way
Reno Gazette-Journal 7-23-2015
Erma Fritchen: Rider on the Storm
Barbwire by Andrew Barbano / Daily Sparks Tribune 1-14-2007
On July 24, 1963,

to avoid the embarrassment of a civil rights march against Las Vegas' segregated casinos, the

Sahara

broke the solid phalanx among casinos and agreed to talks with the local NAACP branch headed by

Marion Bennett

; in 1971,

John D. Loudermilk

's

Indian Reservation (The Lament of the Cherokee Reservation Indian)

by

The Raiders

hit number one on the

Billboard

chart and went on to become the biggest selling single in the history of Columbia Records. [

Courtesy of longtime Nevada reporter Dennis Myers' daily Poor Denny's Almanac

]
7-23-2015
On this date in in 1868, the 14th Amendment to the U.S. Constitution, providing for due process under the law, was ratified.
[Courtesy of Poor Denny's Almanac]
On this date in 1991, President Bush the Elder signed the Americans with Disabilities Act into law.
Moving the needle and needling the weasels
Education funding hike non-existent / Confederate flags fly in Sparks, Nevada
Barbwire by Barbano / Expanded from the Tuesday 7-21-2015 Sparks Tribune
Stench of sulfur suffuses Nevada's year of the gun
The ghost of Trayvon Martin today hangs heavy over Sparks.
Would killer Wayne Burgarello have been acquitted if he was black?
Barbwire by Barbano / Uncensored full-length edition expanded from the 6-2-2015 Sparks Tribune
June 7 ceremony in Dayton, Nev., honors former slave and Union Army Civil War Soldier Pvt. Scott Carnal, 79th U.S. Colored Infantry, died 7 June 1917, buried at Dayton Cemetery
2015 LEGISLATIVE END GAME (at least until special sessions start)
Union workers sound the alarm door-to-door in Carson City & Las Vegas
9:00 a.m. PDT Saturday 30 May 2015
Union cabbies plan mass Las Vegas Strip stoppage/demonstration May 29
Las Vegas Review-Journal 5-28-2015
Gomorrah South casino mogul castrates First Amendment in Nevada
Lawmakers bend over to make it easier for Steve Wynn to file frivolous lawsuits that can stifle and bankrupt any critic
By Dennis Myers / Reno News & Review 5-28-2015
Dogs and ponies, DARE traps and tokenism
Barbwire by Barbano / Expanded from the 5-26-2015 Sparks Tribune
Corporate welfare unites me with the moonhowlers
Even Ira Hansen sells out to the gambling-industrial complex
Barbwire by Barbano / Expanded from the 5-19-2015 Sparks Tribune
MayDay! The bright side of riots in the streets
Barbwire by Barbano / Expanded from the 5-5-2015 Sparks Tribune
In the Uber-Nevada Legislature, words can kill
Barbwire by Barbano / Expanded from the 4-28-2015 Sparks Tribune

Tesla rewrites history to chisel worker paychecks
Barbwire by Barbano / Expanded from the 4-21-2015 Sparks Tribune
Radiation Nation:
Gomorrah South bakes in the glow of victory
Barbwire by Barbano / Expanded from the 4-14-2015 Sparks Tribune
Revenge, redistricting and amnesia in Cartoon City
Plus highlights from César XIII
Barbwire by Barbano / Expanded from the 4-7-2015 Sparks Tribune
Harry Reid, Eddy Arnold, César Chávez and Gaga Madonna
Barbwire by Barbano / Expanded from the 3-31-2015 Sparks Tribune
Barbano: GOP strategy to cripple labor, then gerrymander Nevada control thru at least 2022
By Cole Stangler / International Business Times 3-25-2015
High noon for the high desert outback of the American Dream
Barbwire by Barbano / Expanded from the 3-24-2015 Sparks Tribune
The South Rises Again. Does Ira Hansen know about this?
3 states make MLK holiday a co-celebration honoring Confederate General Robert E. Lee
Shaun King / Daily KOS 1-22-2015
Barbano on statewide Nevada Newsmakers TV show
Tuesday 12-16-2014 KRNV TV-4 Reno/KENV TV-10 Elko 11:30 a.m. PST
Andrew Barbano and Sam Shad for an entire program
(About damn time after 22 freakin' years)
Psychically cynical but nonetheless newsworthy political proctology, peerless professional prognostication and epic poetic proselytizing promiscuously promised.
TV and radio re-run times and dates + view online
KRNV TV-4 Reno/KENV TV-10 Elko 11:30 a.m. PST Wednesday, 12-10-2014
Check hell for snowfall: Barbano and Gammick actually agree on something.
Re-run times and dates + view online
Host: Sam Shad
Guest: State Senator James Settelmeyer, R-Minden, Capital Senate District
Pundits: Jesse Gutierrez, Former Executive Director, Nevada Hispanic Services
Dick Gammick, Washoe County District Attorney
Andrew Barbano, Editor, NevadaLabor.com
Breaking Bad 5: Machine Gun Michele and the good ole boys
Barbwire by Barbano / Expanded from the 12-16-2014 Sparks Tribune
Breaking Bad 4: Ira & his ammosexuals flip us the finger
Hansen places his puppets in top slots but still controls the lower house.
Barbwire by Barbano / Expanded from the 12-9-2014 Sparks Tribune
Breaking Bad 3: Ira, the guv & the dragonslayers
Barbwire by Barbano / Expanded from the 12-2-2014 Sparks Tribune
Nevada Lawmaker Ira Hansen Is Forced From Leadership Post Over Remarks on Minorities
By KIMBERLEY McGEE and ADAM NAGOURNEY / The New York Times / 11-24-2014
Breaking Bad Part Deux: Ira blames the Tribune
Barbwire by Barbano/Submitted for publication 11-21-2014/Expanded from 11-25-2014 Sparks Tribune
TV-4 11-24: I'm not a racist, I just play one on TV
BREAKING NEWS—>Hansen resigns as Nevada State Assembly Speaker
BARBANO DECRIES HANSEN ON STATEWIDE NEVADA NEWSMAKERS TV
KRNV TV-4 Reno / KENV TV-10 Elko / 11:30 a.m. PST Tuesday, 11-18-2014
Re-run times and dates + view online
Host: Sam Shad
Guest: Ray Hagar, Reno Gazette-Journal
Pundits: Michael Hackett, Alrus Consulting
Jesse Gutierrez, charter school operator, former Exec. Director, Nevada Hispanic Services
Andrew Barbano, Editor, NevadaLabor.com
Related item: Follytix '15: From Topless Campaign to Breaking Bad
On the documented racism and bigotry of incoming Nevada State Assembly Speaker Ira Hansen, R-Sparks
Barbwire by Barbano / Sparks Tribune / 11-18-2014
SMOKING GUNS: The Ira Hansen Files
Words from God on Nevada ballots and Ebola
Barbwire by Barbano / Expanded from the 10-21-2014 Sparks Tribune
Hazardous duty? Fourth Nevada State Assembly veteran dies within past year
Cheap thrills: Sex banned in Gomorrah South
How to intimidate Nevadans from registering to vote — by a Democrat, no less
GAO Study: Voter ID laws cut turnout by blacks, young
Barbwire by Barbano / Expanded from the 10-14-2014 Sparks Tribune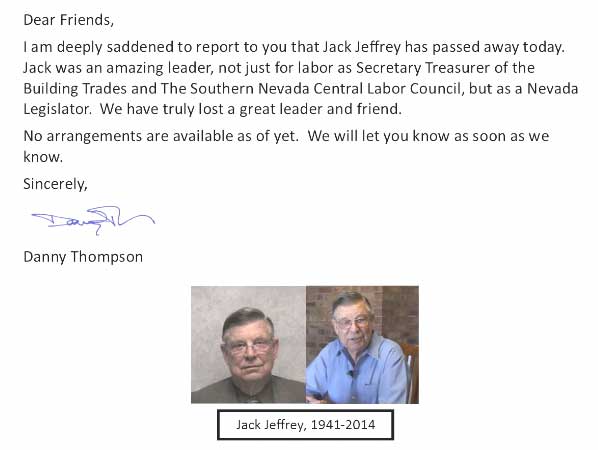 VISITATION: Friday, Oct. 17, 2014 8:30-10:30 a.m., Palm Mortuary, 800 S. Boulder Highway; Henderson, Nevada

MEMORIAL SERVICE: Friday, Oct. 17, 11:00 a.m., St. Peter's Catholic Church, 204 S. Boulder Highway @ Lake Mead, Henderson [Editor's note: We were originally informed that the service was at 11:00 a.m., changed to 12:00 noon then back to 11:00 a.m. We hope this is the final schedule. Sorry for any inconvenience.]

RECEPTION: 1:00 p.m. Friday, Oct. 17, Henderson Convention Center, 200 S. Water Street, Henderson
In Memoriam
Former Nevada State Assembly Majority Leader Jeffrey, D-Las Vegas, was a longtime legislative colleague of Sen. Neal. Condolences to his friends and family.
Statement from Sen. Neal: "Jack was one of my favorite people at the Legislature. When Gov. List wanted to take the fire sprinkler law away from me in 1981, Jack made a trip to the Senate to ask me about it, noting that the governor wanted to substitute his bill for mine. I told Jack to take all the good things from the governor's bill and put them into mine."

The resulting legislation, passed over gambling industry objections in the wake of the 1980 MGM Grand fire and the 1981 Las Vegas Hilton conflagration, became the toughest high-rise fire safety law in the world.

"In one of my first sessions, either in 1973 or 1975, some racists hassled me at a Carson City Basque restaurant. I told Jack about it," Sen. Neal remembers.

"Jack said 'next time that happens, you come get me.'

"The last time I saw him was at the Henderson history event last year. Jack was there with his wife (Betty)," Neal said.

Jeffrey was a longtime union member. He died of cancer which metastasized from his lungs. Jack smoked.

"I am sad to hear about the death of my friend Jack Jeffrey. Jack and I served together in the Nevada Assembly for many years. We served on committees and shared a labor background. My heart goes out to his wife Betty and the family. The people of the State of Nevada benefit from Jack's hard work as a legislator."

Continuing updates and memories will be posted here and more are encouraged.

Return of the old lions

60 YEARS' WORTH OF EXPERIENCE SORELY MISSED IN 2011 (3-21-2011) — 32-year former Sen. Joe Neal and 28-year former Assemblyman Bob Price, both D-N. Las Vegas, back in the great halls where they belong. Sen. Neal was in Carson City to witness the introduction of the first bill sponsored by his daughter, freshman Assemblywoman Dina Neal, D-N. Las Vegas. Bob and Nancy Price journeyed from their Sparks home to the capital for a noontime workers rally. (Photo courtesy of Nancy Price.)
Will today's lawmakers ask the classic question Sen. Neal always raised about gambling? —> Will the Tesla deal pay for all the growth impacts it will cause?
Tinkle-down economics: testing Tesla's testes
Theft of Washoe Med/Renown provides cautionary tale
Barbwire by Barbano / Expanded from the 9-9-2014 Sparks Tribune
News Roundup: Taxpayers taken for Teslacide demo ride
---
Sexy scandals, whitewashes & black towers
Media overlook federal sex/race/ethnicity investigation into Washoe County School District
Meanwhile, big money is spent strictly on abstinence
State panel to review militarization of police departments
In Nevada visit, new Veterans Administration boss proves all jobs require training
Barbwire by Barbano / Expanded from the Sparks Tribune / 8-21-2014
HANDS UP! Moment of Silence for slain Mo. teen Aug. 14 in Reno & Carson City
Education Dysfunction Part XLIV—>
Pots and Kettles: Can't we all get along?
BREAKING NEWS: WCSD Vice-President Dave Aiazzi has announced that he has been diagnosed with leukemia and will be resigning by the end of September. Remember him with healing thoughts and prayers.
Barbwire by Barbano / Expanded from the Sparks Tribune / 8-7-2014
Education Dysfunction Part XLIII—>
Playing the race card for profit and peril
Barbwire by Barbano / Expanded from the Sparks Tribune / 7-31-2014
Happy 79th Birthday, Sen. Neal!
Born in Mounds, Louisiana, 28 July 1935
Call him at (702) 399-2114.
Legendary civil rights leader and Las Vegas TV personality Bob Bailey dies at 87
Las Vegas Review-Journal / 5-26-2014
WASHOE COUNTY CLERGY AND ACTIVISTS LAUNCH SOULS TO THE POLLS PROGRAM
MESSAGE FROM THE MAHATMA
about America's latest carnage
---
Now at BillMoyers.com
(5-24-2014)
— The website of the nation's most important TV show, which Northern Nevada's PBS affiliate KNPB TV-5 has refused to carry for years
Full Show: Facing the Truth: The Case for Reparations
Eight Charts Show Why Racial Equality Is a Myth in America
Looking Beyond the Minimum Wage
Living Apart: How the Government Betrayed a Landmark Civil Rights Law
Voting Rights Act Fix Stalled in Congress
When Chicago's west side fought back
How the Great Society Democratized Our Economy
Getting a College Degree Won't Protect Black Workers From the Economy's Racial Barriers
60 Years After Brown v. Board, Will Congress Revive a Dual School System?
A New Poor People's Movement Must Have Leadership From Poor People
Race, the war on drugs and mass incarceration
The war on climate scientists with
David Suzuki
, eminent PBS contributor
• Morning Reads: Debtors' Prisons Are Back; Pope: It's 'Sinful' to Continue Causing Climate Change
---
Negative Optimism: Making the best of being worst
Barbwire by Barbano / Expanded from the 5-8-2014 Sparks Tribune
Mayday!
Taxes smolder while citizens do slow burn
May Day in Reno, D-Day for teachers' union tax petition
Barbwire by Barbano / Expanded from the 5-1-2014 Sparks Tribune
Black Panther Party Founding Member Bobby Seale speaks at UNR
April 22: Power to the people—>Admission is FREE
Marching for equal rights and equal pay on tax day
Shades of Sen. Neal's greatest parliamentary coup: The Equal Rights Amendment will be reintroduced at the 2015 Nevada Legislature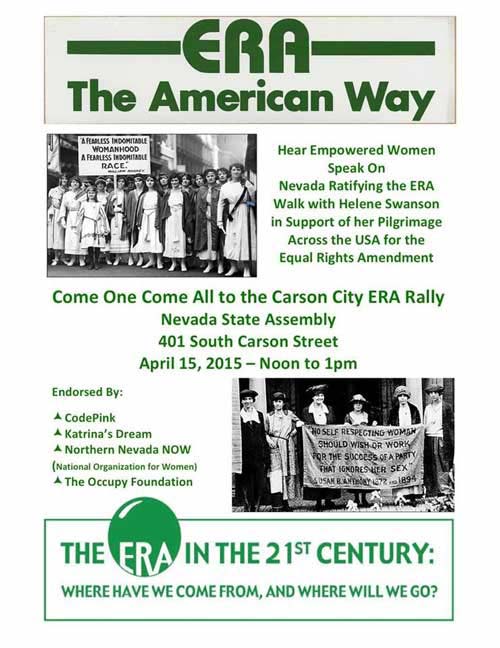 The above year of 2015 is in error. The correct date is April 15, 2014.
Marching for equal rights and equal pay on tax day

April 14, 2014

For more information contact
Janette Dean - Cell (775) 771-8735
For Event on April 15, 2014— Helene de Boissiere-Swanson, Cell (415) 233-2049

Washoe Valley resident, UNR political science major and 2013 Outstanding Nevada Legislative Intern Janette Dean is working toward passage of the ERA and plans to reach out to a Nevada State Senator to introduce ratification legislation in the 78th Session. She was also able to speak with U.S. Senate Majority Leader Harry Reid, D-Searchlight, on Monday morning at a "Meet the Candidate and Elected Officials" forum in which he emphasized the importance of many issues such as comprehensive immigration reform, expanded renewable energy usage, an increase in the minimum wage, and equal pay for women who earn just 77 cents to the dollar compared with men.

In reply to her question about supporting the ERA, Reid told Dean and the audience that he would have no problem supporting federal legislation providing passage of the ERA or with Nevada ratification as one of the final three states needed.

In fact, he told Dean, "It's been long enough, hasn't it?"

Dean says she also wants passage of the ERA because "it will finally allow the United States to also ratify the U.N. Convention on the Elimination of All Forms of Discrimination Against Women (CEDAW) treaty which we signed in July 1980 but did not ratify because there is no strong legal mechanism to put its provisions into practice which is required upon ratification; the ERA as the 28th Amendment would provide that. Only seven out of 194 countries have not ratified the CEDAW treaty, including the United States, Sudan, South Sudan, Somalia, Iran and two small Pacific island nations (Palau and Tonga)."

Dean also stated that her current International Human Rights class inspired her involvement to help get Nevada to ratify the ERA. "In class, I learned that despite the fact that women should be protected under existing human rights laws, widespread discrimination in terms of pay, leadership positions, unprosecuted violence, legal bias, and other forms of discrimination continues including deprivation of education and healthcare in several developing areas. This is why laws that specifically outlaw discrimination by sex are indeed necessary such as the long overdue ERA."

Text of the Equal Rights Amendment:

Section 1. Equality of rights under the law shall not be denied or abridged by the United States or by any state on account of sex.

Section 2. The Congress shall have the power to enforce, by appropriate legislation, the provisions of this article.

Section 3. This amendment shall take effect two years after the date of ratification.

SNATCHING DEFEAT FROM THE JAWS OF VICTORY — Read how Sen. Joe Neal, D-North Las Vegas, engineered the most artful piece of parliamentary maneuvering in the history of the Nevada Legislature to pass the ERA in the good old boys' State Senate of 1977 — only to see the bill killed in the previously-committed and lewdly liberal State Assembly by a dirty political deal between two juice lobbyists and eight turncoat Democrats.

UPDATE+Photo: Marching for equal rights and equal pay on tax day
Sen. Neal speaks at
César Chávez Celebration XII
Monday 31 March 2014 / Circus Circus-Reno
Update: Sen. Neal was inducted into the César Chávez Nevada Labor Hall of Fame at the event. Watch this website for complete details and photos.
On April 11, 1968, President Lyndon B. Johnson signed into law the Civil Rights Act of 1964, famously remarking "We have lost the south for a generation."

On April 10, 1947, Brooklyn Dodgers president Branch Rickey announced he had purchased the contract of Jackie Robinson from the Montreal Royals.
The Obamacare Bitcoin online vote exchange
Barbwire by Barbano / Expanded from the 4-10-2014 Sparks Tribune
Where's the modern-day Joe Neal for governor, Democrats?
Steve Sebelius / Las Vegas Review-Journal 1-17-2014
2:00 p.m. Jan. 18 memorial set for former Nevada Assemblymember and hospital trustee Vivian Freeman

Former Nevada Assemblyman Bernie Anderson dies
UPDATE: Funeral 10:00 a.m. PST Saturday 1-18-2014 @ Immaculate Conception Catholic Church in Sparks for longtime educator and Judiciary Committee Chairman
San Francisco Chronicle / Associated Press 1-10-2014
They don't do anything until somebody dies
UNR & downtown Reno theater firetraps mean little was learned from Las Vegas Hilton & MGM disasters
Remembering Sen. Neal's landmark high-rise fire sprinkler law
Barbwire by Barbano / Expanded from the 12-12-2013 Sparks Tribune
RENO, Nev. (12-5-2013) — Longtime Neal colleague. former Nevada Assemblymember and hospital trustee Vivian Freeman dies at 86.
John F. Kennedy's 2014 Inaugural Address
Barbwire by Barbano / Expanded from the 11-21-2013 Sparks Tribune
Breaking News and Bulletins—>
Nov. 21, 2013: State Senate Majority leader Mo Denis, D-Las Vegas, headlines Reno informational meeting regarding Driver's Authorization Cards
Nov. 23: FOUR Immigration Reform marches in Reno
Immigration Shifts Political Power
AP-Las Vegas Sun / 11-20-2013
POOR DENNY'S ALMANAC 11-21-2013 — On this date in 2004, Ray Hagar and Sandi Wright reported in the Reno Gazette-Journal that local schools attended by low income students tended to be the most poorly maintained schools.
THE BARBWIRE RESPONDS: So what else is new? Over the decades, the RGJ has done a sterling job investigating separate but unequal health care and education. Alas and alack, nothing much ever changes on the High Desert Plantation. For a quick sad summary, see the Barbwire of April 2, 2006 (updated periodically).
Assemblymember Peggy Pierce, D-Las Vegas, 1954-2013
The African Americans: Many Rivers to Cross
With Henry Louis Gates, Jr. / Oct. 22-Nov. 26 / 8-9:00 pm. Eastern
Check local listings for times and re-runs
A new six-part series now on PBS TV stations

Sen. Neal featured at 11 Oct. 2013 Henderson history event
The next Henderson Speaks Lecture presents Nevada historians on these topics:


1. The Economic Impact of the Henderson industrial plants on southern Nevada before and during World War II
2. Labor and Race Relations at World War II-era BMI (Basic Metals, Inc.) plants

Presenters in addition to Sen. Neal:
Historian and retired Nevada State Archivist Guy Louis Rocha
Former Nevada Governor and U.S. Senator Richard H. Bryan

Moderator: Dr. Peter La Chappelle, Associate Professor of History
Nevada State College

When: Friday, October 11, 2013, 6:30 p.m.
Where: College of Southern Nevada, Henderson Campus
Caesar J. Caviglia Academic Building
Lecture Room—John C. Kish Auditorium
700 College Dr.
Henderson, NV 89002


For more information, go to the Henderson Historical Society

NOTE: Two items at the above link regarding Sen. Neal require correction. He served in the Nevada State Senate for 32 years, 1972-2004, the second-longest tenure in state history. He ran for governor twice, in 1998 and 2002. In the latter year, he made history as the first major party African-American nominee for the state's top office.
USA at crossroads: New Deal or new Confederacy?
Barbwire by Barbano / Expanded from the 10-10-2013 Sparks Tribune
Lawnmower Man, bladerunners and smoke eaters
Demonstrators at Reno Federal Courthouse deserve combat pay
March on Washington commemoration marred
Barbwire by Barbano / Expanded from the 8-29-2013 Sparks Tribune
The presence of all colors gives you black
Barbwire by Barbano / Expanded from the 7-25-2013 Sparks Tribune
Photo: Rev. Luther Dupree, Jr., kicks off downtown Reno Trayvon Martin rally
Reno News & Review 7-25-2013
London Guardian newspaper international investigative reporter Greg Palast urges Trayvon Martin's father to sue his son's killer
Truth-Out.org 7-24-2013
Former Las Vegas NAACP president, Methodist minister and
Assemblymember Marion Bennett, D-Las Vegas, dies of heart attack at 80
Las Vegas Review-Journal 7-23-2013
On Mr. Ralston's July 24 program, attorney and Nevada Assembly Majority Leader William Horne, D-Las Vegas, defended the 2011 measure, opposed by Laura Martin of the Progressive Leadership Alliance of Nevada. Neither acquitted him/herself very well. You may view the program online and decide for yourself by clicking here.
Bagging black bucks in the Gunshine State
Barbwire by Barbano / Commentary expanded from the 7-18-2013 Sparks Tribune
Barbano on statewide Nevada Newsmakers TV-radio-web program
Neal gross gambling tax issues remembered 7-8-2013
Clarence Thomas, Little Anthony & the Imperials
Barbwire by Barbano / Expanded from the 6-27-2013 Sparks Tribune
Mr. Wynnderful waxes wealthier whilst we wither
Barbwire by Barbano / Expanded from the 5-9-2013 Daily Sparks Tribune
The brutal law of unintended consequences
Between the devil and the deep Joe Neal
Sen. Neal's long-lost research may invalidate more than 100 longstanding Nevada laws
IRONY ALERT—>New higher electoral standard for teachers' tax petition may generate more support
Barbwire by Barbano / Expanded from the 2-28-2013 Daily Sparks Tribune